Homes and Real Estate on Johns Lake
John's Lake is located just south of Florida's Turnpike between Oakland, Winter Garden and Clermont Florida. It contains a lot of peninsulas and islands but also a lot of residential homes and communities, especially on the northern end of the island.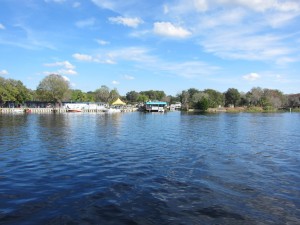 John's Lake borders Lake County and Orange County just south of State Road 50. This nearly 2500 acre lake is divided into East and West pools with a connecting channel. Some of the local residents refer to this as John's Chain as the lakes shoreline is varied enough to create the impression of multiple lakes. John's Lake is perfect for fishing, swimming, boating and more. The numerous islands make great fishing spots for bass, bluegill and speckled perch. There's a public boat ramp at 13620 Lake Blvd. in Winter Garden but many of the residential homes surrounding the lake have their own docks, but boat or boat accessible facilities.
The east side of the lake are more Winter Garden addresses where as the west side of the  lake boast Clermont addresses.  Most of the homes however do reside on the north end of the lake.  In the center of the lake is Deer Isle with homes from $300,000 to just under $1 million. These properties features stunning views of the lake itself and nearly every home on the waterside features a long dock out to the lake. Most of these lots a rectangle in shape, around 1 acre in size and were built between 1995 and 2010.
Along Magnolia Island, located on the west side of the lake, are several single-family homes priced from $450,000 to $1.7 million. These also sit on lots of up to 2 acres built within the last 10 to 15 years.
Due to the shape of the island there are many opportunities for lakefront homes and properties. There are even multi family units, townhomes, and smaller developments on the north side just south of W. Colonial Dr. and Florida's Turnpike. This location provides easy and quick access to downtown Orlando or downtown Clermont or Winter Garden. For more information on homes and real estate on John's Lake please give me a call at any time. I would love to show you some of the current listings for sale and provide answers to any question you have about living on the lake in Clermont.
Image by Leonard J. DeFrancisci