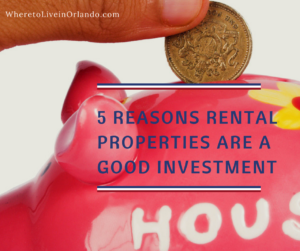 With home prices rising, rental properties are becoming more and more popular. It's a great balance right now and if you've been on the fence about investing in real estate, let me give you some excellent reasons why it's a solid investment and how you can get in the real estate world around Clermont.
#1. Appreciation potential.
One of the best things about rental properties is that you can use a loan to purchase property and increase the potential return. This is called leverage and when you buy an investment property using more debt than equity, the investment is highly leveraged. If the property appreciates each year by 5% to 6%, your appreciation applies to the entire asset, not just your initial investment. Plus, it's one of the only investments that you can continually make money while it increases its potential return.
External Related: Should you invest in a co-op condo?
#2. Tax benefits.
If you own a rental property, you can write off the interest on the mortgage and any credit card you use to make purchases for the property. You can write off insurance, maintenance costs, property taxes, and any travel expenses you incurred while managing the property. There may also be more specific deductions on your type of rental property and its location. It's important to talk to a CPA or licensed tax professional to make sure you're getting the most out of your investment property.
#3. It offers a wealth of different results.
There are several different ways you can make money on an investment property: long-term capital growth to save money for retirement, positive monthly cash flow from rental income, and adding value to renovate or update an outdated rental property. You can write off the maintenance costs and increase rental prices with a little bit of elbow grease. Some properties may even allow you to subdivide or develop more of the property to increase your cash flow.
Read More: 5 Attributes You Need in a Real Estate Agent
#4. Great passive income option.
Not ready to quit your day job? No problem. Investing in real estate is a great way to get started. As long as your property is occupied you should be able to receive a steady stream of monthly income while also paying down the mortgage on the property. This can be even more passive if you choose a property management company to take care of managing the maintenance, tenants, and rental collection of the property.
Related: What happens if a tenant trashes the house?
#5. It works.
One of the best reasons that rental property is a solid investment is that it really works. It's not a new concept and rental properties are really the core of real estate investing. People always need a place to live and people will always need rental properties. Not everybody will buy all of the time. Student loan debt is at an all-time high, which makes it difficult for many millennial's to buy a home, so what are they doing? They are renting. Shouldn't you be the landlord?
From property management to general homebuying, rental investments and listing management, give me a call. There are plenty of great investment properties throughout Clermont, Mineola and Winter Garden. Let's talk investing today. – Find Real Estate Investments in Clermont