Clermont, Florida Parks
There are around 20 parks in the Clermont, Florida area but in this article we'll give you information on two of these great parks; Palatlakaha River Park and Waterfront Park. These are great parks to visit especially if you live in one of the area's lakefront properties.
Palatlakaha River Park
This park offers boater's access to the Crooked River and the Clermont Chain of Lakes. Here, you'll find two fishing piers, a playground, and a pavilion with a grill as the main features. The area is great for birding and especially so in the Spring and Fall. Palatlakaha Park has a 0.8 mile loop trail that goes through the 18 acres of habitat kept for the Florida Scrub-Jay, as well as a Live Oak-Bald Cypress Hammock. Other animals that can be found in the park include butterflies, and various wildlife. Additionally, the trail is equipped with many educational signs that point out different plants along the way.
Complete amenities at Palatlakaha River Park include: 4 ball fields, full concession, restrooms, soccer field, tennis courts, volleyball courts, basketball court, racquetball court, fitness trail, enormous wooden play yard, pavilion, picnic area and a fishing pier/nature walk. This park is home of the South Lake Little League.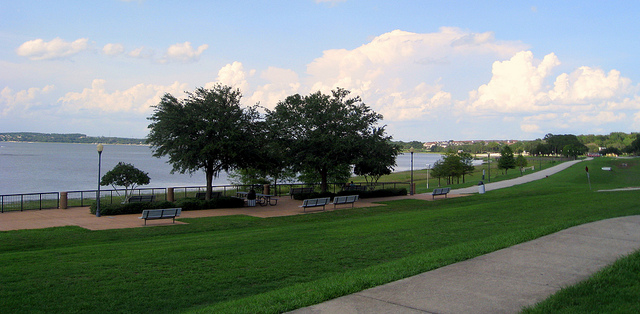 Waterfront Park
Located along Lake Minneola( see Lake Minneola Real Estate), Waterfront Park is right between East Avenue and Eighth Street. Weekly festivals happen at this park, such as Pig on the Pond, a host of triathlons and new water competitions, like the Champions' Dragon Boat Festival and Leader of the Lake Regatta.
Running through the park, is a trail that is part of a 30 mile system and will eventually be part of the coast to coast trail.
Waterfront Bikes and Boards offers rentals of paddleboards, kayaks and bicycles. The park also includes picnic areas, a swimming area, fishing piers and a playground.
Image by Jared FLickr