How to Stage Your Empty Saw Mill Lakes Home in Clermont
Is your Saw Mill Lakes home in Clermont vacant but you want to stage it to sell? No problem! Vacant homes make for bland listing photos with no character and nothing to "grab" a buyer. The good news for the seller is that great staging of your vacant home requires little investment that will pay off in the long run. The goal is to give color and life that will present itself in listing photos. Why? Because photos generate showings. Thank you to James K Poole for his beautiful lakefront image.
The Living Room:  You can add life to this room by simply placing a couple of arm chairs and a large plant in a good position. Then maybe add a few throw pillows or a throw blanket and a couple of interesting objects on a fire place mantle if you have one. This is affordable because most likely you already own these things and can live without them temporarily in your new or current place.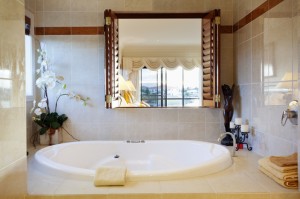 The Kitchen: Set a coffee pot or Kitchenaid mixer on the counter and hang a colorful hand towel from the oven. Then, maybe a basket of fake fruit on the counter as well. The fruit and hand towel will do much to make the room "pop". This is affordable because the coffee pot could be a second one you already own or one you grab from a thrift store and the towel and fake fruit can all be purchased at a local dollar store.
The Bathroom: Get a great shower curtain with pattern and or color and a scented candle to place on the counter near the sink. The shower curtain can be purchased for as little as $10 and the scented candle, even though not lit, adds color and fragrance to the room. Plus, why not light it for the photos at least and see it's glow bring warmth to the listing photo!