Lake County Florida
Lake County Florida is located just east of Orlando with a population of about 210,000 residents. It's part of the Orlando/Kissimmee Metropolitan area. Lake County is so aptly named due to the over 1400 lakes in the area.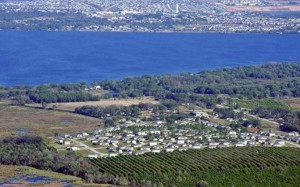 The Lake County school district is home to over 22 elementary schools, eight middle schools, eight high schools, five conversion charter schools and five regular charter schools as well as a few private schools. In addition to our numerous lakes we also have national protected areas such as the Lake Woodruff National Wildlife Refuge and the Ocala National Forest.  The Lake Woodruff area consists of over 1000 acres and borders Honey Creek and St. John's River. The Ocala National Forest is the second largest forest in the state of Florida and covers over 600 mi.². It's also one of the oldest national forests East of the Mississippi River.
The North part of the County covers the national forests area where as the middle section offers dozens of the bigger Lake such as the Lake Harris and Lake Griffin with surrounding towns such as Fruitland Park, Grand Island, Bassville Park and Leesburg. South of Highway 91 is Groveland, Minneola, Clermont and Winter Garden also surrounding Lake Louisa and Lake Minnehaha.
Home prices in Lake County Florida start at around $150,000 for a simple one or two bedroom home. You might find some excellent short sales and foreclosures although the majority will need some cosmetic or major updates, renovations or repairs.
In the $300,000 range are likely to find homes on a little bit more acreage or waterfront homes. Because of the abundance of lakes and rivers in Lake County finding a waterfront or riverfront home is pretty easy. Most people like having some sort of lake view or waterfront property. Most of the homes in Lake County were built between the 1930s up to the 2000 and prices are going to vary depending on the condition, the size, the age and amenities.
If you're currently interested in finding a home anywhere in Lake County Florida and would be happy to showcase some of the most beautiful homes that fit your lifestyle, your search criteria and your price range. Give me a call anytime and let's discuss. Photo by Gustofusion and Google Maps
Your Florida and Orlando Expert
I love living, working and playing in the area and if you love it just as much, give us a call to find your perfect dream home in the Orlando real estate market. I help buyers and sellers in Winter Garden, Clermont,  Minneola and all over the Orlando area. Where know where to live in Orlando!