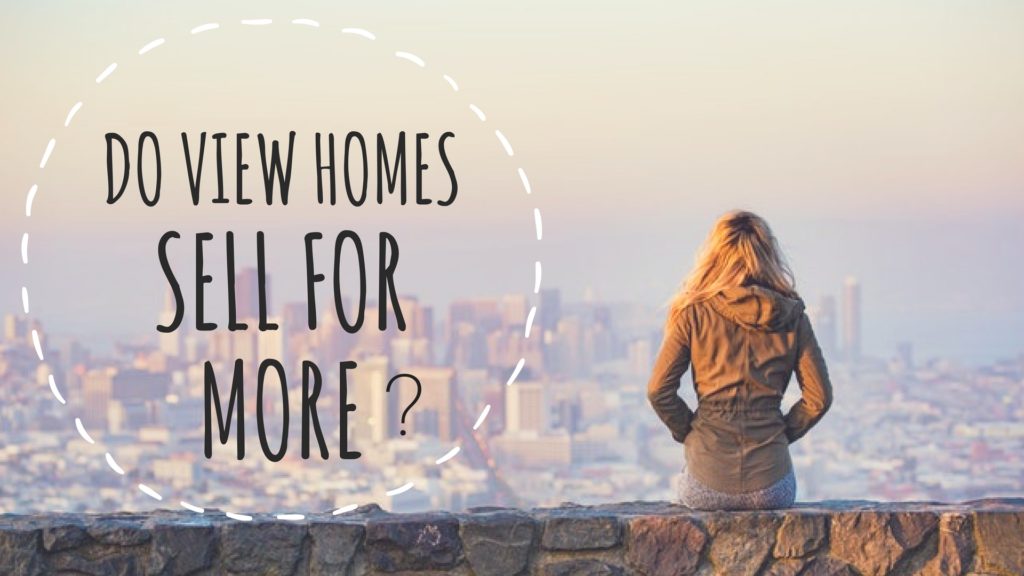 How much does a view really cost? Can a home be priced higher if it has a view? What about water or lake front? What external things make for a higher priced home?
Well, it all depends on the buyer and the house. One house in Sunnyvale California just sold for nearly $800,000 OVER asking price! That's right, it was listed at $1,688,000 and in a week had over 20 offers and sold for $2,470,000! Of course, it was a couple blocks from Apple's new headquarters but still. That's a huge offer!
So what makes a home fetch a higher price? Will the view make the difference? It will if the buyer loves the view. But I remember selling a house not too long ago in a neighborhood where many homes had great views and it was priced far below many other homes in the neighborhood and had been on the market over a month. The listing agent couldn't figure out why the home hadn't sold. My buyers walked in and fell in love with the stunning view and quickly made a full price offer.
Read More: Will buyers make offers on over-priced listings?
To the past potential buyers, a view wasn't that big of deal. The same goes with lot space. Many buyers are specifically looking for a home with zero lot lines so they don't have to worry about landscaping and gardening. Others love the idea of a large lot with huge backyard, perfect for entertaining. What appeals to one, may be a turn off to another.
What about water-front? There are some stipulations for buying a waterfront home and some homeowners may not want to deal with the additional maintenance. Some may specifically seek out a lakefront or waterfront home.
Beauty AND functionality are truly in the eye and the wallet of the beholder.
Views also vary. 
Does a home with a view mean the territorial view of the trees behind the house? Or does it mean a view of the ocean, lake, mountains, or something a good distance away? There are several types of real estate views that you might see and they fetch different increases in price.
Ground Level – Basic view from the ground level of the home where you can see a larger, non-residential space, such as a wooded area. This can increase a value of home .5%- 2.5%
Rooftop – or partially obstructed. Peek-a-Boo views, they are sometimes called, means you can see a distance from the top floor but the view is partially obstructed with roofs, trees, or other houses. 3% – 5% increase.
Mid-Level Unobstructed – This could include views from the side of a hill where you can see all around or to an open area. This could add up to 8% depending on the condition and location.
Unobstructed High Elevation – This could mean from a condo building or on top of a hill with an unobstructed view to see an entire city, lake or landscape.  This varies in price depending on where you are too. Some people may love a view of the city where others want a view of the hills. The increase could be 9% – 12%.
Unobstructed Water View –This is the biggest attraction in general. This could be a large body of water such as an ocean, large lake, river, etc… The more view a person can see the better. It doesn't really count if you can only see the view from a tiny window in the back bathroom. However, this view is really hard to determine and it's where comparable properties must come into play. This can add 10% up to even 50% to the value of the home depending on how fabulous that view really is.
Comparable properties are really the best way to determine whether or not a view is worth anything in a particular area. Just like the Sunnyvale home; not anything fab about the home itself, it was the location and lack of inventory. If your home has the best view in the neighborhood, it makes sense to price it a little higher.
Read More: Will a below-market house affect your house? 
Using a qualified real estate professional that has accurate access to active listings, pendings, and sold properties in an area is really the best way to get an accurate price of a home.
If you're unsure whether or not your view home is worth more, give me a call. Let's do the research and get the very most from the sale of your Clermont, Winter Garden or Minneola area home.