Homes with land right on the water have some unique things to consider when it comes to landscaping. The yard has an added dimension as a gateway to water activities and plays a big role in a part of your beautiful view.
It is pretty important to make sure you do your research before beginning any lakefront landscaping project. Any landscaping project you perform on a lakefront property will not be your typical landscaping project.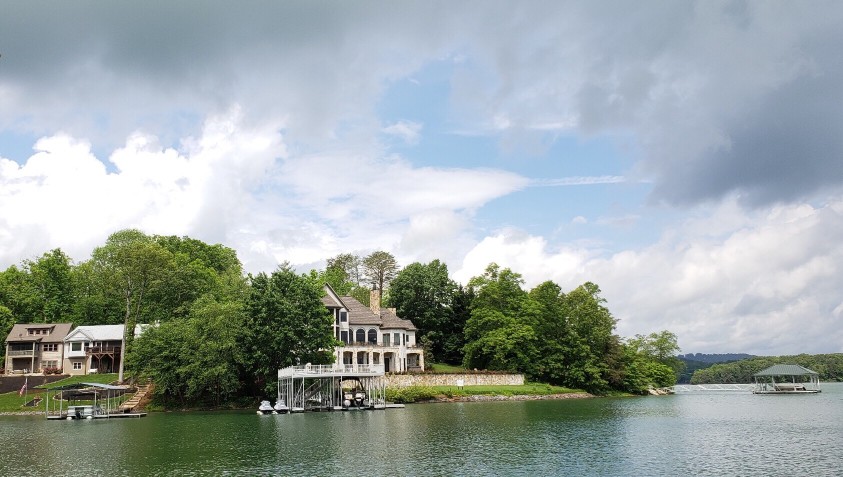 It is not uncommon for lake homeowners to get stuck on how to have a nice looking yard without making a negative impact on the lake environment around it. A great idea to help you out with your landscaping endeavors on a lakefront yard is to check out local area workshops or advice threads online. Some towns will offer workshops to introduce skills and resources specific to local waterfront landscaping success.
You also want to make sure what the specific neighborhood, lake, and town restrictions are for making improvements to your specific property. Adding the wrong improvements is taking a risk that someone official will discover them and ask you to remove all your hard work.
Related: 10 Questions to Ask When Hiring a Landscaper
Some Things that are Good to Know
Lakeside Properties are Usually in a Floodplain
Nearly every lakefront property is in a floodplain. The first duty to landscaping by lakefront homeowners is to make sure the land is strong and protected against flooding and erosion. Lakes are formed by many different processes from basins naturally filling with water to man-made holes being dug.
More: 10 Fall Curb Appeal Tips for Selling
The land that serves as the lake perimeter is considered a floodplain as defined by several different state's regulations. A floodplain is a natural filtration system, it is an area where stormwater runoff seeps into the ground. Natural vegetation works as a filter to keep contaminants out of the lake water and retaining needed nutrition for itself. So planting items that work well as filtration is a good idea.
Wildlife and Environmental Impact are Big Concerns
When formulating a landscape plan for lake property, you will need to take into account the bigger impact it will have on the land around you as well as the animals that make the lake and surrounding land their home.
Be careful and responsible for the chemicals you use to care for your lawn and garden. Pollutants like phosphorus and nitrogen can get into the lake water and increase algae and aquatic weed growth. Pesticides can also get into the water and harm fish and other water creatures.
Removing parts of the shoreline or vegetation along the shoreline can greatly impact a lake's ecosystem, so it is best to know what impact you will cause if you plan to remove any plants in your yard.
If you are needing more knowledge and want to take the safest approach to keep your property and the lake around you safe, it is a great idea to call a professional landscaper that has experience with local waterfront landscaping to give you a consultation or to do the work for you.
For more information on lake homes in Clermont and surrounding areas please contact me anytime.
If you enjoyed this info you might like these too: