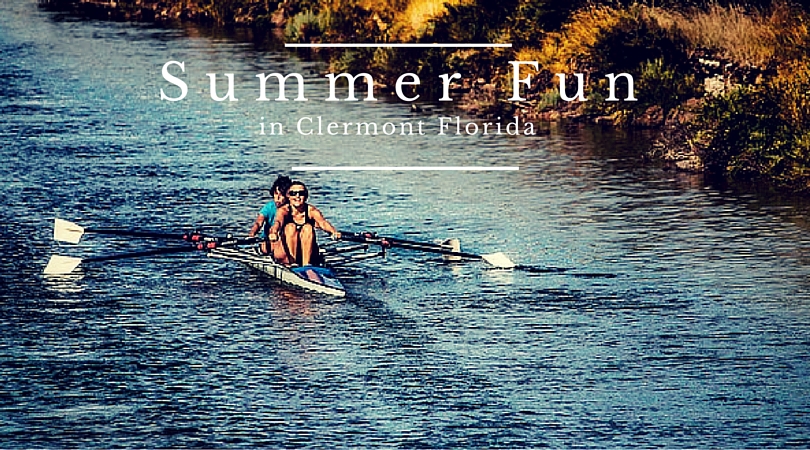 Even though back to school ads are all over the the television, there is still a bit of summer left. Make the most of your days and enjoy some of the fun events going on in Clermont in July and August.
Middle School Summer Rowing Camp July 19
For three weeks on Tuesdays, Thursdays, and Fridays from 4:15 to 6:15 middle school age students can learn to row. Lessons take place at the Clermont Boathouse located at 1050 Lake Minneola Drive.
Cost is $150 for the three week session and is a great way for kids to try a new hobby/sport while meeting new friends
Weekly Farmer's Market
Though the Farmer's Market runs all year there are always new vendors coming and going. Check back often to discover the new goods or visit a favorite regular vendor. A great place to buy fresh local eats and handmade wares or just catch up with friends. The Farmer's Market is open every Sunday except for holidays from 9am-2pm at Clermont Historic Village.
Presidents Hall of Fame Signing of the Declaration of Independence
The Presidents Hall of Fame is a fun replica of the White House that has brought America's history to life in a fun miniature version of the White House. All through the month of July you can celebrate Independence Day with the Signing of the Declaration of Independence. Tickets are around $15 and this is a notable favorite on trip advisor.
National Night Out August 2
The Clermont Police Department will be hosting National Night out on Tuesday August 2 from 5 to 8pm at Waterfront Park. This is a free annual event joining in with law-enforcement agencies all around the country with a goal of promoting police-community partnerships and crime prevention. This year's event will include free food, dunk tank, a wide range of kid focused activities, Star Wars characters, and emergency vehicles on display including fire trucks, patrol cars,tactical vehicles, and motorcycles.
First Friday Family Food Truck Night and Music on Montrose August 5
This is a monthly event in Clermont where you can come enjoy a variety of great Food Truck eats, vendors, downtown shops open late until 9pm and live music. The event has become so popular that trucks are competing for space to participate in this event.
This month's live music :
Anita Drink
This month's trucks include:
Arepa Kings
Bem Bom
Cajun In A Truck
Cowboy Jim's
Frenchy's Crepes
Jamaica Jamaica
Kona Dog
Korean Taco Box
Lee's Famous Chicken
Over the Top Pita
Tullulah's By the Sea
Tastebuds Catering
Willy T's Crab Shack
Race 3 of the Central Florida Triathlon Series and 5k August 13
This fun sporty event is put on by Sommer Sports celebrating peace, love, and happiness. Sommer Sports aims to create fun events you can include the whole family in. Every participant receives a t-shirt and every finisher receives a die-cast medal. After the race stick around for entertainment and food. Choose between a triathlon and a duathlon. Check this link for official start times and other information.
For more information on Central Florida Lakefront Communities  and property management please feel free to browse our blog and website or contact me at anytime.