Homes Near Golf Courses in Clermont, Florida
Living on or near a golf course is a dream for many. Often, through each window of a golf course home, the best vistas are available of lush maintained greens. Another perk of golf course living is that the homes are usually situated so that direct neighbors are not visible, but rather views of the fairway. Additionally, if you're a golf enthusiast, there's nothing better than having your dream playground right in your own backyard. Clermont, Florida offers a couple of options for realizing the dream of living near a golf course.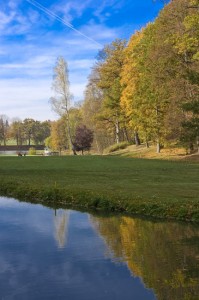 The challenging, fun, scenic and tranquil Green Valley Country Club is a wonderful option just two miles west of Clermont. The course is open to the public and surrounded by dozens of gorgeous homes and stunning estates with prices starting at around $120,000 on up to over $300,000. Residents enjoy the lush facility and par-72 championship layout that is a vintage Lloyd Clifton design. Here, there's a full practice facility and a pro shop.
Legends Golf and Country Club is another great option for the Clermont resident looking to live near the green. Legends Golf and Country Club overlooks the beautiful rolling hills of historic citrus groves in one of the most charming parts of Orlando. This is a dream community where you can relax by the pool, enjoy an afternoon with friends, neighbors or family while playing golf or tennis, spend a much needed day at the spa or just enjoy the views from your lovely home.
In this gated community, you can practice your skills on the 18 hole, par-72 green, enjoy the clubhouse or walk on over and check out the Legend Grille and Tavern. There's also a pro shop, fitness center and media and event rooms.
Come check out residential opportunities in Clermont near your favorite golf course today!