It wouldn't be Christmas in Clermont without the annual Light Up Clermont Festival to kick off December. This annual two-day festival is a long honored and anticipated part of the holiday season in Clermont. 2016 marks the 29th annual Light Up Clermont Festival. All activities are free admission and family-friendly.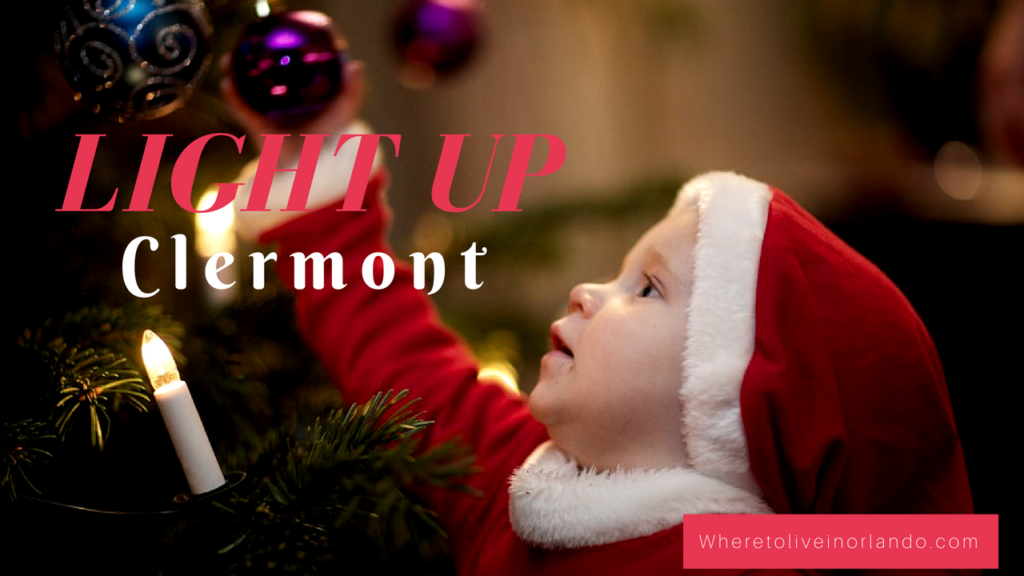 Friday night December 2nd the festival kicks off in City Hall Park on Montrose and 7th. The Clermont Friday food trucks are open beginning at 5:30 pm so come grab some of the best bites around before the tree lighting.
At 6:30 on Friday night is the Annual Tree Lighting Ceremony. This is one of the newer traditions of the festival. This will be the third year of tree lighting in Clermont. A huge tree is brought in and decorated with lights and a star and officially lit up for the season to usher in the Christmas Cheer. At this time the whole downtown area will light up with animated light sculptures around the lake as well.Following the tree lighting, there will be live holiday music on the main stage in the park.
Ready to let loose and enjoy the weekend? Come to Montrose and 8th St. to dance the night away with a DJ on the Community Stage.
Take those cute kids of yours to get their picture taken with Santa and Mrs. Claus. They will be hanging out across the street from the tree lighting at Clermont City Center located at 620 West Montrose St. from 7 to 9 pm on Friday.
Saturday there will be more live music and entertainment from 10am to 2:30 pm at City Hall Park. You can also check out the crafts fair and food vendors on Montrose and 8th from 10am to 3pm.
Saturday afternoon at 1 o'clock is the much loved Holiday Parade. There will be decorative floats, bands, dance troops, and more all leading up to the arrival of the big guy, Santa and of course his lovely wife Mrs. Claus. Photos are courtesy of the Kiwanis of South Lake.
To finish off the weekend festivities is the annual Lessons and Carols Concert at the Clermont Performing Arts Center located at 3700 South Highway 27. There will be two shows, one at 5pm and one at 8pm.
Clermont is a great place to live especially during the holidays. For more information on living in Clermont or real estate in Clermont and surrounding areas please browse our website or contact us anytime.
Image adapted By Ernst Vikne (Decorating the Christmas tree) [CC BY-SA 2.0 (http://creativecommons.org/licenses/by-sa/2.0)], via Wikimedia Commons